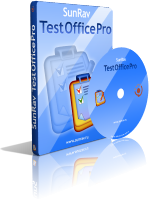 SunRav TestOfficePro is a suite of programs for creating tests, holding tests, and processing and analyzing the results. The software allows identifying personality traits and behavior types, monitoring changes in knowledge and skills picked up during work and/or training, and more...
Quick start Ask a question Download Order
With SunRav TestOfficePro, it's easy to create and use tests for any academic subject or school class – as well as professional competency tests, staff accreditation, and psychological tests, to name a few. Online testing is possible via SunRav WEBClass.
tMaker – test creation software. No training is needed to get started making and editing tests. Text (such as MS Word files) and spreadsheets (such as MS Excel workbooks) can be imported.
tTester – testing software. The interface is simple and unobtrusive, while extensive settings and command-line options allow customizing the testing process for the most exacting needs.
tAdmin – remote administration of users and processing of e-testing results. View/print results, as well as create, edit, export, and print reports on testing results for groups and/or individual users. Answer grids can be created.
Main SunRav TestOfficePro features
Test creation and test assignments
Create tests for any and all purposes, in all types and forms, thanks to:
Diverse question types. Five types of questions are available:

Single choice . One correct answer is selected from several shown.
Multiple choice. One or more correct answers are selected from those shown.
Open-ended . The user types an answer. The test creator can use the built-in powerful template language for proper evaluation of test answers.
Matching . The user should arrange the entries in two lists so that they correspond to each other.
Ordered list . Arrange the answers in a list in a particular order.



Adaptive testing. The order of questions does not have to be linear – it can depend on user answers as well.
Topic support. The program can separate a test into several topics, in order to evaluate results for each topic individually or together.
Comments for questions. Each question can be supplemented with instructions on how to answer, a hint, information about the correct answer, etc.
Reactions to user answers:

No reaction – the user moves on to the next question.
Message that the user has answered correctly or incorrectly.
Show a document related to the question. The document could, for example, explain the reason for an incorrect answer and provide additional information for understanding the question better.



Question/answer weighting. Each question and each answer choice can have its own weight. So more points can be given for correct answers to tough questions, and fewer points for answers to easy questions.
Visualization. You can insert images, formulas, diagrams, tables, audio, video, HTML, and OLE documents in tests. The text editor built into tMaker is intuitive for anyone who has used MS Word.
To save test takers from the urge to cheat or take shortcuts, we recommend using the following features:
Testing settings. The administrator can block attempts to exit the program before the end of the test, disable access to the desktop and taskbar, and close the program after a test is completed.


Random questions. The questions in a test can be shuffled. The test creator can also set how many questions from each topic the user will get. Let's say a topic contains 100 questions. If you randomly select only 10 questions, then the test takers will receive completely different question sets for one and the same test. The answers to each question can be shuffled as well. So with enough questions, test takers won't be able to "skate by" just by having a vague idea of the test with a particular sequence of questions and answers. The described functionality is applied in Exam Mode (selectable in the test settings), for more see the program documentation.
Time limits. You can restrict the time for answering at the question level or at the test level. The amount of time can be different for each question.
Configurable in-test information. Select whether to show users the number of correct answers and test time remaining.
Restrict test attempts. You can limit the maximum number of times for taking a test.
Monitor testing attempts in tAdmin.
Security. All tests and results are encrypted, ensuring that forgery is impossible. All tests can be password-protected from editing in tMaker (from unauthorized changes or viewing the test structure/correct answers ahead of time, etc.) and from viewing in tTester (from advance testing).


E-textbook integration. Tests can be part of electronic learning materials created in SunRav BookOffice.
Access to third-party programs. During testing, the user can launch other programs from the testing program toolbar.
Creation of CDs. Convenient for distributing tests and holding testing without needing to install the program.
Ease of installation. There are several ways of installing the testing program on user computers: by installing the complete SunRav TestOfficePro suite, running the tTester installer, or simply copying the necessary files to user computers.
Technical info
Number of questions: unlimited
Number of answers: unlimited
Number of users: unlimited
Number of tests: unlimited
Number of topics per test: up to 256 topics
Storage format of test and results: in files
Standard license
Up to 25 computers for user testing.
3 workstations for test creators and administrators.
Order
Site license
Unlimited number of computers for user testing.
Unlimited number of workstations for test creators and administrators.
Order
The licenses you buy never expire – there are no time limits attached.