The Favorites folder is a perfect place for arranging books and chapters. It will help you access your favorite chapters (sections) and books easily. You can access this folder by pressing Ctrl+F8.
In the Table mode the Favorites folder looks like this: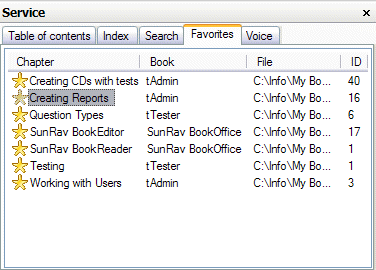 Chapter - the titles of chapters (sections).
Book - the titles of books.
File – the full names of book files (their location).
ID - ID of chapter.
To add the current chapter to the Favorites, click the

button or press F2 key. The chapter will be added to Favorites.
To view a chapter in Favorites, just go to the folder and click the title of the chapter. If the chapter you need is from a different book (not in the current one), the program will open the necessary book automatically.
To remove a chapter from Favorites, select it, click the

button.
You can always save the Favorites folder to a file. To do this, press the

button. Enter the name for the file to save the contents of the folder to.
To return to some previously saved Favorites list, press the

button and select the file with Favorites you need.